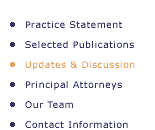 Stage 1: M&A Though Purchase of Existing Shares

Prior to 1997, foreign investors in Korea could purchase only newly-issued shares of an unlisted Korean company, and not shares which were already issued and outstanding.

In early 1997, Korea for the first time permitted foreign investors to purchase previously issued and outstanding shares of an unlisted company directly from a shareholder, subject to some onerous conditions.


Stage 2: Further Post- Crisis M&A Liberalization

Shortly after the economic crisis hit Korea in late 1997, Korea eliminated many of the conditions which hindered M&A transactions, such as board approval for the purchase of existing shares in most companies. The changes now allow a 100% takeover of most companies without board approval. In November, 1998, the Foreign Investment Promotion Act further simplified foreign investment procedures by:



requiring in most cases only a simple notification of an investment to a foreign exchange bank or the Korea Trade and Investment Promotion Agency (KOTRA);


seeking to improve previous 'one-stop shop' efforts by designating KOTRA to provide guidance and support to foreign investors; and


adding tax exemption and reduction incentives for foreign direct investment in certain target industries and certain activities in designated foreign investment zones.
A key question among long-time participants in the Korean investment scene now is whether the improved openness shown toward foreign investors will survive if the Korean economy continues on its path of recovery.

InternationalCounsel has had longstanding experience with foreign investment and other activities in Korea. David Laverty practiced with one of the prominent Korean law firms in the late 1980's. Just prior to that time, Michael Hogg's Asian regional responsibilities for a Fortune 100 company included leadership of the legal team that successfully secured approval of a path-breaking foreign investment in Korea. We continue to represent foreign investors in Korea. A recent example of our work is the formation of a boutique investment bank in both Seoul and New York with a focus on Korean investment activities (noted at the end of this Monitor).


Legal Best Practices Monitor

International Legal Options - Part I

Our backgrounds as in-house international legal counsel to major companies has led us to keep close watch on trends that affect the practice of law for international issues. We have seen increasing focus over the last several years on ways to handle international projects better and more efficiently, with a continued focus on cost effectiveness. The older model of a company letting its generalist law firm attempt to assist it into non-U.S. markets has faded. Other options for accessing experienced international practitioners are allowing even small and medium-sized companies to receive the type of sophisticated international advice typically available in-house at the largest companies.

In this installment, we briefly note the trend among larger companies to handle international work in-house, and share some reasons for this development.

previous |next | back to top

© Copyright 1997-2006, InternationalCounsel. All rights reserved. Disclaimer.