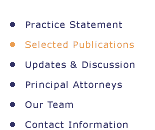 THE ROLE OF THE IN-HOUSE COUNSEL
IN SELECTING FOREIGN LEGAL COUNSEL:
RECENT EXPERIENCE OF U.S. MID-MARKET COMPANIES
by David A. Laverty
InternationalCounsel
Inter-Pacific Bar Association
Seventh Annual Meeting and Conference
April 28 - May 2, 1997

Kuala Lumpur, Malaysia



I. INTRODUCTION
What is motivating in-house counsel in their decision to select foreign legal counsel? In addressing this issue, a focus on the actual decision-making process of a defined group of companies may be more useful than a general "how-to" guide to information sources and criteria for selecting outside counsel. Rather than speak to the needs of the largest multinationals, I will emphasize the needs of the next tier of companies, typically in the range of U.S. $100 million to $2 billion in annual sales. These companies, which for lack of a better term I refer to as "mid-market companies," are significant organizations by world standards and increasingly active in cross-border expansion. My role is to act as the equivalent of an in-house international legal counsel for these companies in structuring, documenting and negotiating their transactions. For them, international joint ventures, acquisitions and other more sophisticated transactions are increasingly commonplace, not merely export transactions or distribution arrangements.

Though we are all aware that intra-Asia investment and trade has taken on great significance and is the source of much legal work in the region, this paper draws on experiences with U.S.-based companies in a largely transactional context. (The selection process for arbitration and litigation, securities issuance or intellectual property has its own special flavor.) These companies and their in-house counsel are responding to trends in corporate management and cost-control and the peculiar structure of the U.S. legal market. Such trends are having a pronounced impact on the ways that in-house counsel are selecting and working with all outside counsel, including foreign counsel.

Asia-based counsel who are familiar with these trends will better understand what is motivating in-house counsel, can more effectively fill their needs and thereby improve their chances of being retained. Yet, most of these lessons can be more broadly applied, whether to larger companies, Asia-based companies investing elsewhere or to outside counsel seeking to retain foreign legal counsel.


II. GENERAL TRENDS
Why even focus on the role of in-house counsel in the selection process, as opposed to law firms in one jurisdiction choosing law firms in another? A brief review of broader trends will help set the context.
A. Changes in the Role of In-House Counsel

1. Growth in In-House Capabilities

Though during the last U.S. economic downturn, in-house legal departments of the largest corporations experienced some shrinkage, such departments appear to be growing again. Moreover, the development of in-house international expertise continues to be a corporate law department priority in the U.S. The addition of international legal expertise topped at least one recent survey of 240 large U.S. companies, who expected their short-term need for in-house international attorneys to be greater than all other areas, including environmental, mergers and acquisitions and labor matters.

Mid-market U.S. companies are also continuing to add in-house counsel capabilities in a predictable pattern of first adding a general counsel once a certain size range is reached and then adding other substantive expertise. Since full-time in-house international expertise is uncommon in the U.S. $100 million to $2 billion size range, the general counsel is often the key decision-maker in retaining and working with foreign legal counsel.

2. Direct Retention of Foreign Counsel by In-House Counsel

Though some companies choose to retain foreign outside counsel through their primary outside counsel or even a law firm with offices in several markets, there is an increased retention of foreign counsel directly by the company. I concur with Gerold Libby's view on this issue:

"Not too long ago U.S. multinational corporations and other clients were rather likely to engage their outside counsel in outbound international corporate practice, and it was rather common for those clients to regularly dispatch their outside counsel to locations all over the world when legal problems arose. . . . Today, much more often than not, outbound international corporate work for U.S. multinational corporations is assigned to in-house corporate law departments."

At the 1996 Plenary Session of the Sixth Annual Inter-Pacific Bar Association (IPBA) Meeting and Conference, The Changing Order of Cross-Border Legal Practice in the Region, some of the speakers emphasized their desire for in-house control over legal aspects of cross-border projects. They also expressed a preference for unfiltered legal information direct from foreign legal counsel. At that session, James Watkins, the former Group Legal Director of Trafalgar House plc, emphasized his interest in retaining strong local law firms to give objective advice. He indicated possible use of "international" firms only in jurisdictions where there is not a developed local bar and perhaps for a very large project with an emphasis on documentation and structuring. Mr. Watkins minimized the importance of foreign counsel affiliations with U.S., UK or other "international" law firms. He felt that many of the best local firms and lawyers prefer to rely on their own names, reputations and independence.

James Watkins' priorities were echoed by Carol F. Lee, Vice President and General Counsel of the International Finance Corporation, who expressed her belief that the best local firms are generally preferable to "international" firms. Taro Murayama, Deputy General Manager, Legal Division, Mitsui & Co., Ltd. offered a slightly different emphasis, suggesting that timeliness and clarity of advice were potential problems in the direct retention of foreign counsel by in-house counsel.

In my experience, at least among U.S. companies, the largest and most sophisticated users of foreign legal counsel tend to prefer directly retaining and communicating with the best local sources of advice. Use of foreign offices of multi-jurisdictional law firms, when exceptions are made, tend to be in emerging markets where the local bar may not be as developed. In-house legal counsel less experienced in international matters, often from companies less far down the internationalization path, tend to place more value on a one-stop shopping experience at a multi-jurisdictional firm or some other connection between a foreign law firm and law firms in their home markets.





B. A Power Shift Toward In-House Counsel

In addition to strengthened in-house capabilities and a greater tendency of in-house lawyers to directly hire foreign legal counsel, in-house counsel are exercising increasingly greater power and control over outside counsel. Such a trend is especially pronounced in the U.S. The large number of attorneys in the U.S., coupled with cost-control pressures which became especially strong during the last U.S. recession, has resulted in a strong buyer's market for legal services. The pressure on in-house counsel to reduce costs is being passed-on to outside counsel, who are forced to compete for business in new and creative ways. This is resulting in practices such as the following:

1. Alternative Billing

Companies are more aggressive in limiting outside counsel use of straight hourly billings. Many believe that hourly rates offer no incentive to firms to complete projects efficiently. The lack of predictability in mounting hourly charges is also a key problem, with the client absorbing all risk for unexpected events. According to a recent survey of general counsel of the 1,000 largest U.S. companies, while hourly billing is still the most popular method (used by 86 percent of respondents), the number of law departments using fixed-fee contracts is increasing, from 47 percent in 1993 to 68 percent in 1995. Also, of those surveyed, 56 percent report soliciting competitive bids. In addition to a greater use of fixed fees, we are seeing fee caps and other forms of risk sharing. In the world of corporate budgeting and accountability, predictability of expenses can be more important than the absolute amount of fees.

While there is truth in the general trends toward greater use of alternative fees, actual use is far behind the hyperbole of the many "End of the Billable Hour" articles and discussions. For example, the National Law Journal's recent annual billing survey found that though many law firms are now using a variety of alternative billing methods, the traditional method of charging hourly rates still predominates. This is in part due to the difficulty in valuing legal work by any other means.

2. Outsourcing/Partnering

These terms describe a phenomenon of firms giving sizable amounts of work to relatively few firms and then requiring the firms to function as an extension of the in-house legal department. This may include asking law firms for lawyers on "loan" to the company for extended periods, possibly requiring on-site presence at the company. The related process of narrowing the number of firms used by a company, known as "convergence," is also becoming more prevalent.

Which measures are most valued by companies? In another survey of 319 general counsel from companies of all sizes, respondents said that, of all issues faced in 1995, cost control issues were of greatest concern. The respondents felt that the most effective means of controlling outside legal costs are as follows: negotiating discounted hourly billing rates, negotiating the level of professionals to be used on a particular matter, creating a budget for a matter, using fixed fees and partnering with outside counsel.
III. IN-HOUSE COUNSEL DEMANDS ON FOREIGN LEGAL COUNSEL
Noted above are trends toward more sophisticated in-house capabilities coupled with a greater tendency of companies to directly hire foreign legal counsel. Moreover, there continues to be greater pressure on in-house counsel to keep costs down, such as through alternative fees, outsourcing and partnering arrangements.
No doubt, most legal markets cannot be directly compared with the U.S. Most jurisdictions in Asia, whether Japan, Korea, Taiwan, Malaysia or Indonesia, are notable for relatively small numbers of attorneys, with even smaller numbers in international practice. With this relative monopoly position, legal counsel in such jurisdictions certainly are not subject to the same competitive pressures and can more readily set the terms of a relationship with foreign companies.
Yet, the trends are influencing in-house counsel attitudes and approaches to working with outside counsel, wherever they may be. What do the trends mean for foreign legal counsel who are interested in representing U.S. companies, particularly mid-market companies?


A. General Criteria in the Selection Process

The selection process is about evaluating who among foreign legal counsel is in the best position to meet a company's requirements. These requirements include guidance on substantive law as well as the subjective ways of doing business in a particular market. The foreign counsel takes on the role of: (1) an expert on local law, regulations and procedures; (2) an advisor on policy and politics and an interface with local officials; and (3) a guide to cultural, language and issues of how to conduct business in the country. In short, the foreign counsel can be a critical resource on how to accomplish a company's objective in a target country, a role that tends to be far broader than a source of purely legal information.

Past direct experience with counsel on similar projects is naturally the best predictor of future performance: "The advantage of an already existing working relationship with someone who knows my way of doing things and something about my company's business cannot be overlooked."

Absent prior experience, in-house counsel select foreign counsel based on a broad range of information sources and an equally broad range of selection criteria, many of which are outlined, in rough order of importance, in Attachment A.



B. The Importance of Recommendations of Other In-House Counsel

Rather than walk through the Attachment A factors in detail, I believe that, among the information sources, recommendations are a key factor for many in-house counsel. The best such recommendations are from those with actual project experience with the foreign counsel. For many, these recommendations come from other in-house counsel. When asked what is key in retaining counsel, one hears statements such as: "We often call peers at other companies for input," or "Our preference is for recommendations from other in-house attorneys. If I have a suit in a place we've never been before, I'll contact my counterparts at local corporations and ask for recommendations -- and ask detailed questions about their experiences with the attorney."

Why this emphasis on the views of other in-house counsel? A general counsel of a $1 billion U.S. company has told me that he always prefers to use company recommendations on foreign counsel. He believes that, by using in-house sources, he gets an unbiased viewpoint on the quality of foreign counsel. He also feels that a U.S. firm finds it hard to resist attempting to play a role in the project (the general counsel prefers direct in-house contact with foreign legal counsel). As a senior in-house international counsel for a Fortune 500 company also recently shared with me, other in-house counsel, when compared with law firms, have a better sense of the priorities of an in-house person, such as the need for efficiency.

Law firm priorities in recommending foreign counsel to clients may differ in other ways. Law firms may be less sensitive to cost issues when retaining foreign law firms on behalf of corporate clients. Law firm discussions of retaining foreign legal counsel also tend to be pre-occupied with issues of enhancing networks of counsel, whether through the IPBA and other bar groups, law firm alliances, lawyer exchanges, affiliation agreements or establishing joint or independent offices. This network focus may be motivated by a desire among law firms to offer the best services to clients. However, many in-house counsel believe that other motivations, such as a desire for reciprocal referrals, are possible sources of bias.

While in house lawyers also need to build networks of working relationships with foreign counsel, they tend to be less active in the networking process. As an in-house person in a mid-market retailer recently put it, he has no time to even review legal directories let alone attend conferences. This presents greater challenges for foreign counsel in making themselves known to in-house counsel, understanding their priorities and learning how to impress them. An obvious start is the foreign counsel's excellent work, leading to satisfied in-house counsel, who will then be willing to recommend the foreign counsel to others.



C. What Are the Key Retention Factors in Light of Recent Trends?

Once an in-house counsel narrows a potential list of foreign counsel to a recommended few, the final decision becomes more subjective. The decision depends on the needs of the project and the personal priorities of the in-house counsel. The work will be given to those perceived to be able to deliver high-quality advice with first-rate responsiveness. We have all heard the list before: companies are looking for timeliness of responses, accurate and thorough advice, good communication abilities and reasonable fees. In concrete terms, what are some of the key factors for in-house counsel, and how are recent legal practice trends influencing the retention decision-making process?

1. A Word on Timeliness, Accuracy, Thoroughness and Communication

One impact of recent trends is a continuing push for more timely, more accurate, more thorough and better communication. Not surprisingly, in-house counsel will be looking for clues in initial written and oral communication. How timely? How accurate? Are all of my questions answered? A good first step for foreign counsel is to respond immediately, accurately and thoroughly to a request from a potential client.

On the issue of timeliness, one general counsel of a U.S. mid-market company has emphasized to me that foreign counsel must understand the pace of U.S. companies. They must be able to keep moving at the same pace, providing absolutely prompt responses.

As for accuracy and thoroughness, U.S. counsel greatly appreciate the generally excellent English-speaking abilities in the Asia-Pacific region. While acknowledging that it is unfair to always expect English usage, one Fortune 50 international counsel has contrasted the good linguistic abilities in Asia with abilities in parts of Central and South America. An experienced in-house international person may appreciate the extraordinary difficulty of achieving such proficiency and care little about minor deficiencies in oral or written communication. It may also be true that a less experienced in-house counsel from a mid-sized company will have difficulty judging acceptable proficiency and may overreact to small imperfections. Many U.S. in-house counsel continue to feel that some experience with the legal and business environment in the U.S. is a plus. Yet, a more experienced in-house counsel is better prepared to handle more of the burden of translating the meaning of non-U.S. concepts and practices.

2. Opportunities for Smaller and More Responsive Foreign Firms

In many markets, there has been a tendency for foreign companies to follow each other to only a few law firms. With the heightened investment activity in many markets in Asia, there has also been a recognition that such firms cannot handle all of the work. The mid-market range of companies may feel slighted by firms that concentrate their best resources on the biggest and most lucrative clients. Mid-market companies may have been spoiled by U.S. law firms competing for their business and are demanding equal attention outside of the U.S. Some express a desire to find other excellent local firms in Asia that will treat them as though they are the only client. Many believe that this level of attention is harder to achieve with the very largest firms in each market:

"[M]y company [The Clorox Company] often looks for a top-tier [foreign] firm that does not have the largest group of multinational clients in the country, so that the firm is "hungrier" for our work and may treat us as a more important client regardless of the size of the matter involved. Depending on what part of the world is involved, our experience has been that a local firm may be preferable to a local office of a global firm in these types of qualities."

Are in-house counsel more likely to look for foreign legal counsel outside of the few largest firms than are U.S.-based law firms? Perhaps, in part to a possible belief among some U.S.-based law firms that reciprocal referrals will be more likely by a larger local firm. While in-house counsel do not have this possible motivation, there is no doubt that an "IBM mentality" plays a part with in-house and outside counsel alike. Though even large organizations such as IBM make mistakes, nobody (at least in the old days) lost their job for using IBM. Of course, even the IBMs of the world have shown that they cannot rest on their accomplishments and are vulnerable to market forces.

3. Flexibility in Meeting the Client's Needs, Not Imposing the Firm's Standard Operating Procedures

With the increased willingness of U.S. law firms in showing more flexibility in meeting client needs, I believe that companies are demanding that their foreign counsel show similar flexibility. This is a general theme over the past several years, due in part to the power shift toward in-house counsel noted above.

Examples discussed below include accepting requests for detailed billing according to the company's needs, quoting alternative fees and meeting the company's working style. Foreign counsel that respond to these needs and even volunteer to go further are likely to make a strong impression. For example, when asked by in-house counsel whether the firm will follow a specified billing format on a monthly basis, a firm that responds with (and I am paraphrasing a firm's actual letter) "we bill quarterly in line with our standard format and have found it satisfactory" may be weakening its prospects.

4. Foreign Counsel's Willingness to Accept In-House Control of Process

In-house counsel, particularly from the largest companies, increasingly seem to want to keep control of the drafting and negotiation process. Outside counsel may be seeing attempts to keep their role limited to review and comment. Exceptions may include certain more limited matters which may be more efficient for foreign counsel to handle or are in the local language. Yet, there are those in-house counsel who prefer to give more general assignments to foreign counsel, such as a sample format along with the company's general objectives. Such willingness to give greater discretion to foreign legal counsel is often due to limited internal resources (and often limited experience). In addition, some in-house counsel (such as a contact in a mid-market consumer products company) believe that a more suitable result can be achieved by giving more flexibility and discretion to foreign legal counsel.

5. Fees, Alternative or Otherwise

Yes, fees themselves can be an issue, though one hears a good deal of talk in the U.S. about value in services as opposed to a simple-minded focus on hourly rates. Many mid-sized companies have confessed to me that cost is not as important as expertise and responsiveness. Nonetheless, companies are regularly forming task forces to study how they should change their approach to working with outside counsel. As a member of one such task force, I recall hours of debate on issues such as appropriate detail in billing, greater reliance on fixed or capped fees, required budgets (or at least detailed working plans) and regular updates on how such budgets or plans are being met. The bottom line is that this is a very different environment than a past era when companies did not question the judgment and wisdom of their lawyers. Bills would be paid based on a fee statement description of no more than "for services rendered in connection with the ABC joint venture."

The most aggressive companies on the fee issue may be the largest U.S. companies. Mid-market U.S. companies are very much in need of predictable fees but often not experienced enough to know what is reasonable to achieve with foreign legal counsel. Many companies from jurisdictions outside of the U.S. are less obsessed with the fee issue, as represented at last year's IPBA Plenary Session by Mr. Watkins, based in the UK, who downplayed the issue of fees and noted that price is no indication of value. At the same session, Mr. Murayama, based in Japan, emphasized the need for trust in a long-term relationship, not a focus on fees.

In some companies' experience outside of the U.S., "alternative fees" can have a very different meaning. In-house counsel hoping to limit hourly billing in the U.S. may prefer it to something worse. An example of such a greater evil is from Brazil, in the case of a foreign counsel fee based on a percentage of an amount claimed in an employment context. The company faced with the (enormous) fee decided it would have been happier for a return to an old friend, the hourly rate.

6. Demonstrating Interest in a Client's Business Objectives

Among in-house counsel, there is a pronounced appreciation for outside counsel who think in terms of business objectives and the company's bottom line. Some in-house counsel feel that outside counsel have no particular interest the company and what it is trying to accomplish. Can the outside counsel demonstrate that he or she shares the same concerns of the in-house lawyer and that they must work together to satisfy the needs of the CEO and the company's objectives?

Company insiders generally live and breathe the objectives of the organization and any news that has an impact on it. They find it hard to believe that the rest of the world does not find these matters equally important. Outside counsel should not ignore this. Why not volunteer to learn more about the company's business at the firm's expense in order to be better prepared?

7. An Emphasis on Results v. Process

Related to showing an interest in business needs and objectives is, as one mid-market general counsel put it, a results orientation, not an obsession with the process of lawyering. He is frustrated with what he calls a "process orientation" by many foreign outside counsel who are absorbed with listing each and every step of each and every foreign investment regulation or incorporation procedure. As a mid-market company, there is not the luxury of time to review every detail of "law review article" advice, nor is there an ability to pay for this. Rather, there is a need for foreign legal counsel to get to the bottom line and keep a focus on business priorities.

8. In-House Counsel's Need for Proactive Lawyering

Direct responses to a client's direct questions, no matter how accurate, are seldom enough. Suggestions on how to accomplish a client's objectives more efficiently and effectively will earn the respect of in-house counsel. In-house counsel will be looking for clues to a foreign counsel's approach in an initial response letter and in interviews. Foreign counsel that ask questions about the level of involvement wanted by in-house counsel and counsel's business and legal objectives will likely leave a favorable impression.

Of course, in-house counsel need to be sensitive to differences in training and approach of lawyers from other legal traditions. Many in-house counsel for less experienced companies may not realize, for example, that most lawyers from most other countries do not believe that a lawyer should play a pro-active part in the process. Nor would such in-house counsel be aware that the civil law tradition shared by Japan, Korea and Taiwan does not place the same emphasis on problem analysis and lawyers generally do not believe that they should aggressively probe the client for additional information. Particularly when dealing with less experienced companies, foreign legal counsel should not be embarrassed to raise additional issues. The company is probably relying on foreign counsel to make sure that all critical issues are addressed.

9. Use of Technology

With pressures on efficiency and "partnering" arrangements among U.S. companies, we are all seeing more need for electronic connections between inside and outside counsel. As a strong believer in the importance of technology, I am reluctant to report that e-mail, teleconferencing and other electronic communication capabilities are not yet high on the priority list for many mid-market in-house counsel in retaining foreign counsel. A Web site? This is becoming increasingly important, especially within certain industry segments.
IV. HAVE IN-HOUSE COUNSEL DEMANDS GONE TOO FAR?
What aspects of these client demands can have the effect of limiting a foreign counsel's effectiveness, create unnecessary costs or even negatively impact a project?
Some of the pressures described above may at least offer background on the reasons why inside counsel are behaving as they do. However, outside law firms are at times privately critical of U.S. companies that have become overly formalistic and too narrowly cost-conscious in their approach to retaining and working with counsel. A few of the possible problem areas are as follows:
Unfair Expectations in Alternative Fees. Some alternative fee approaches are best applied to an ongoing relationship. Risks in some projects are balanced with rewards in others. Since many transactions in international matters involve a single transaction with relatively minor follow-up work, a foreign counsel may not be able to justify accepting added risk.
Equally Unfair Timing and Resource Expectations. This relates to the issue of timing in selecting foreign counsel. Is sufficient lead time and advance warning being given? Do clients go too far in expecting that a firm's best resources will be made available at a moment's notice.
Overly Detailed Guidelines and Customized Bills. If a law firm must follow as many guidelines and billing format demands as there are clients, there may be an inordinate amount of time spent on such administrative tasks. One mid-market general counsel advised me that he is sensitive to such difficulties, partly due to a less-complete computerization in some firms. Also, additional billing detail is not necessarily helpful to him, particularly if he has a good relationship with the firm. He finds that overly detailed guidelines can get in the way of a relationship with a firm and recognizes that this is not the way many foreign law firms practice.

Other companies, particularly major multinationals, believe that detailed guidelines and billing have other strong communication benefits beyond their cost-control role. By clearly stating a company's expectations, the hope is that outside counsel will ask questions and open a dialogue. (This is part of the motivation in requesting detailed proposals and in conducting "beauty contests.") The dialogue can result in a better understanding of what inside counsel are expecting and at the very least help to avoid surprises.

Confusion Over Who Controls and Who Takes Responsibility. In-house counsel may place overly confining limitations on foreign counsel. Only a very limited review may be requested within a very short time. In-house counsel may assume that foreign counsel will catch all problems with a deal's structure, agreement language or approval requirements. Yet, foreign counsel may assume that in-house counsel has taken responsibility for such issues.
Confusion Over Instructions and Role of Foreign Counsel. A related issue may involve written and verbal instructions. These can be too broad -- "Please review the 500-page joint venture agreement and give us your comments by 9:00 a.m. tomorrow, our time." Specific and detailed instructions and questions may be more effective.
Inadequate Background Information on the Project. Though in-house counsel often complain about an inability of foreign counsel to give broader advice which is sensitive to the business needs of the client, often little background is given to foreign counsel. This is in part motivated by a desire to save time and money and is in part simple neglect.

Many of the same in-house counsel who want management to get them involved early in the cycle of planning and decision-making fall into the trap of "too little, too late" with foreign counsel. This is partly due to the extreme secrecy of some business people who simply will not authorize internal lawyers to notify outside counsel too early in the process. This is especially so when a project has not been publicly announced. Budget pressures are also a reason for giving limited information.




V. CONCLUSION

While there is no substitute for in-depth expertise, in-house counsel are increasingly influenced by attorney responsiveness and cost factors in their selection of foreign legal counsel. In-house counsel in the U.S. have been exposed to the increased pressures of the U.S. market and are seeing much greater compliance by outside counsel with in-house demands.

Legal counsel in Asia who are aware of the factors motivating in-house counsel in their choice of foreign counsel and are flexible in meeting (and anticipating) in-house demands will be better able to form new client relationships and improve existing relationships. A particular focus on the needs of expanding mid-market companies may prove to be an excellent source of such relationships.





A version of this publication which includes full citations
is available upon request to companies and their in-house counsel


return to publications index | back to top | home

© Copyright 1997-2006, InternationalCounsel. All rights reserved. Disclaimer.