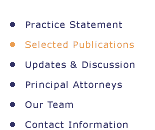 THE FUTURE OF LAWYERS IN ASIA AND THE PACIFIC RIM
by David A. Laverty
InternationalCounsel
Inter-Pacific Bar Association
Ninth Annual Meeting and Conference
April 30 - May 4, 1999

Bangkok, Thailand



Among the members of the Inter-Pacific Bar Association, the future of lawyers involved in international corporate and commercial legal matters is perhaps of greatest common interest. This broad range of international legal work includes international corporate and commercial transactions, such as acquisitions, joint ventures, licensing and distribution matters, as well as foreign direct investment issues. It is within this scope of legal work that many of us are able to collaborate with each other in implementing projects. Thus, while capital markets, project financing and related work are also an important aspect of legal practice throughout Asia, international transactions and foreign direct investment work will be the substantive practice area focused upon in addressing the topic of the future of lawyers in Asia and the region. Also, as we have been asked to address this topic from the perspective of each of our own jurisdictions, I will speak to United States trends affecting international transactions and foreign investment work with a focus on work with Asia. Apart from the impact on U.S.-based lawyers involved in such work, these trends will affect lawyers from throughout Asia who will be involved in the process of implementing projects in the region, including through representation of U.S. investors in their markets.
1. Brief Description of the Role of Lawyers in the U.S. - International Transactions
The lawyers involved with international work in the United States generally are with private law firms or are employed by U.S. corporations, with a distinct trend toward the in-house handling of international transactions and foreign investment work. The role of such international practitioners in the United States continues to be pushed beyond purely legal matters into the realms of both business and political issues. U.S. lawyers are often more prone to involve themselves in business matters than are their counterparts in civil law countries and clients often insist upon this. Political issues often arise in cross-border transactions, such as in direct foreign investment issues where market entry may involve foreign investment approvals that hinge in part on factors outside of a reading of relevant laws and regulations. In-house lawyers handling international issues are especially accustomed to acting in a business and political as well as a legal capacity.*
2. Potential Areas Lawyers Will be Able to Enter and Are Likely to Lose
Lawyers in the United States active in international matters are faced with the following major trends: (1) The growth of in-house international transactions and foreign direct investment capabilities. Some of the better work in this area is being done in-house, and many highly-capable lawyers in the U.S. are moving in-house in order to participate. Such international work is tending to be managed by in-house lawyers as opposed to outside U.S. law firms, a trend which continues to be felt by foreign local counsel in Asia and elsewhere who are dealing ever more frequently with an in-house person. (2) A continued effort by law firms to impress clients by building networks of offices in several jurisdictions. Some firms believe that clients are strongly attracted by a firm's ability to manage an international project through formal and informal networks of firms. (3) The continued emergence of multi-disciplinary partnerships (often referred to as "MDPs") being built by the accounting/professional services firms. The legal work handled by such MDPs is becoming more sophisticated, a trend being felt beyond Europe, which has recently seen some of the more aggressive developments of both MDPs and multi-jurisdiction practices.
A. International In-House Counsel. When a group of managing partners were asked to name the one or two changes in the business world that have affected their practices on an international scale over the past five years, one managing partner chose to answer as follows:
"What really affects the industrial sector, much more than the services sector, is the growth of the legal departments worldwide in this decade. . . . More and more [clients are handling the work overseas themselves], and companies differ, but I have heard from many general counsel in big companies that they don't want or need a big global law firm."
Another law firm partner offered this comment a few years ago (1993) on the trend toward the use of in-house counsel for international projects:
"Not too long ago U.S. multinational corporations and other clients were rather likely to engage their outside counsel in outbound international corporate practice, and it was rather common for those clients to regularly dispatch their outside counsel to locations all over the world when legal problems arose. . . . Today, much more often than not, outbound international corporate work for U.S. multinational corporations is assigned to in-house corporate law departments."
At the 1996 Plenary Session of the Sixth Annual Inter-Pacific Bar Association (IPBA) Meeting and Conference, The Changing Order of Cross-Border Legal Practice in the Region, some of the speakers asserted their strong preference for in-house control over legal aspects of cross-border projects, such as James Watkins, the former Group Legal Director of Trafalgar House plc, who emphasized his interest in handling international work in-house and retaining strong local law firms. In a more recent example, Peter Lawson, Motorola's general counsel, reported that while Motorola had used both in-house counsel and the Hong Kong office of Baker & McKenzie in early joint venture negotiations in China, Motorola's extensive work in that country is now generally handled by inside counsel based in the region.

The reasons for a reliance on international in-house counsel for international matters are many and extend beyond a desire to save costs. Such counsel can offer exposure to a broad variety of markets and entry strategies (as opposed to the narrower specialization encouraged by law firms), tight working relationships with a multidisciplinary team needed to implement international projects (which include business development, finance, human resources and other specialists) at the earliest stages of a project, a hands-on commitment of a senior professional (in contrast to law firm reliance of inexperienced juniors) and the ability to work under relentless pressure to deliver advice which is timely, practical and cost-effective. As opposed to the more prevalent private practice experience of solving problems which have already materialized, a key aspect of the in-house role is to address issues before they become problems.

Among U.S. companies with in-house counsel, what portion of international work is being handled in-house and what portion goes to outside counsel? An annual survey of general counsel sponsored by Corporate Legal Times and Arthur Andersen LLP includes questions on how work is managed and distributed by members of the in-house law department, including for "international" work (which includes international mergers and acquisitions). While the responses from the 336 participating general counsel are difficult to interpret, the survey reveals that the most popular approach for international work is a co-counsel sharing of responsibilities between inside and outside counsel, with 42% of the respondents relying on this approach as compared with its use 12% of the time for general corporate work and 7% for contracts. Yet, given that many international projects by their nature require input from foreign local counsel, responding general counsel could well have an in-house/foreign local counsel "co-counseling" in mind as opposed to collaboration with a U.S.-based law firm. The same interpretative difficulty arises with the next most popular category for handling international work, case management (outside counsel does the work but in-house manages it), which suggests that 27% of the respondents rely on this approach as opposed to only about 3% for each of general corporate and contracts. Is the outside counsel managing the work of counsel based in the U.S. or foreign local counsel? The third most popular approach to international work is the full in-house method -- 22% of the respondents handle such international work fully in-house, compared to some 89% for contracts work and 84% for general contracts. Whatever the data means, though general corporate and contracts work is retained in-house with much greater frequency, in-house counsel play a significant role with international work, whether as co-counsel, managers of the projects or through full retention in-house. Only 8% of general counsel report that outside counsel is responsible for the entire international practice needs of the company.
B. International Activities of Law Firms. A discussion of changes in the provision of international legal services by law firms will not necessarily address new areas which lawyers as a group will be able to enter, or describe areas which lawyers are likely to lose. Yet, as with opportunities for in-house international practitioners, opportunities in international private practice will be greatly affected by the outcome of competing models for delivering international legal services. The law firm search for ways to enhance their appeal is leading to a growth of the multi-jurisdiction law firm as well as ways to enhance the international capabilities of single-jurisdiction law firms. Several U.S. and U.K.-based law firms are betting their futures on the multi-jurisdiction model of several offices combined under a single firm, offering the goal of "seamless" service across borders with one firm maintaining responsibility for the outcome. Many others, whether out of conviction or low-overhead convenience, operate out of a key single-jurisdiction location, attempting to draw on lawyers in each foreign jurisdiction in various ways. Propaganda for both models tends to emphasize the firm in the role as the manager/coordinator of international projects, perhaps exhibiting at least a touch of wishful thinking in the face of the ever-strengthening role of in-house counsel.

Multi-Jurisdiction Law Firms.Arguments advanced for the multi-jurisdiction model include a professed ability to offer better integrated teams across borders, an adherence to the vaunted high standards of the home office, and the capability to enforce discipline and avoid fighting over work allocation among independent firms. Some would also advance cost-efficiency grounds, claiming that a client needs to instruct fewer firms when dealing with a multi-jurisdiction firm and that communication is more effective within such a firm. Yet, cost-effectiveness is difficult to evaluate in the face of the typically higher fees of larger firms. Multi-jurisdiction firms would tend to agree with the following quote from the senior partner of Linklaters & Alliance: "Saying to your clients 'We are going to work with the best firms' is not nearly as effective as saying you could handle the whole thing on a coordinated basis."

Based on the American Lawyer/Legal Business "Global 50" data published in November, 1998, the following table offers an idea of the scope of the few law firms with offices in 10 or more countries:





| | | | |
| --- | --- | --- | --- |
| Law Firm | Number of Lawyers | Countries where firm has offices | Lawyers outside of home country |
| Baker & McKenzie | 2,300 | 35 | 80% |
| White & Case | 778 | 23 | 46% |
| Clifford Chance | 1,795 | 19 | 48% |
| Allen & Overy | 1,089 | 16 | 28% |
| Freshfields | 1,104 | 11 | 42% |
| Linklaters & Alliance | 1,116 | 11 | 32% |
| Skadden, Arps, Slate, Meagher & Flom | 1,125 | 11 | 9% |
| Lovell White Durrant | 801 | 10 | 21% |
| Cameron McKenna | 808 | 10 | 17% |
| Jones, Day, Reavis & Pogue | 1,191 | 10 | 10% |





Europe has become a particularly significant market for law firm mergers and additions of offices. English firms have been particularly aggressive in forming links with some of the better firms in Europe, and as Europe moves toward further integration there is speculation that such English firms could dominate financial and high-value corporate work in Europe. Apart from European integration factors, the English firms are shorter on options for growth due to their smaller local markets. Some believe that U.S.-based law firms are failing to meet this challenge in Europe and may find themselves at a significant disadvantage there. Mergers with English firms are one avenue through which a U.S. law firm can tap into a European network, and the merger of New York's Christy & Viener with Salans Hertzfeld & Heilbronn is seen as only a small beginning for the often-rumored mega-mergers between New York and London firms. Still, the practices of several U.S. firms are good counterexamples in Europe (after all, it was Shearman & Sterling that was able to land the coveted representation of Daimler Benz in its merger with Chrysler).

For some perspective on growth among multi-jurisdiction practices in Asia, from 1992 - 1997, among the largest 100 U.S. firms, such firms' offices in Hong Kong more than doubled from 16 to 35, while Singapore offices for such firms tripled, from 5 to 15. In addition, from 1996 - 1998, among firms on the National Law Journal's list of the largest 250 U.S. firms, the number of attorneys based in Bangkok increased from 80 to 108 (35%), in Beijing from 31 to 39 (26%), in Hong Kong from 392 to 434 (11%), in Singapore from 76 to 138 (82%) and in Tokyo from 107 to 146 (36%).

Single Jurisdiction Firms and International Firm Associations.Other firms express a belief that deep expertise in a single jurisdiction is of prime importance. Davis Polk's managing partner, Francis Morrison, whose firm chooses local counsel worldwide based upon clients' needs, is quoted as saying: "We have no immediate agenda to practice someone else's law . . . . I like to say, 'We plan to stick to our knitting.' That's what we've done well for 150 years."

One of the principal strategies for strengthening the international capabilities of single-jurisdiction firms has been through the law firm association. As of December, 1998, one summary of the growth of these associations estimated that there were about 10 in 1989 compared with around 240 as of the end of 1998. A quick look at the Martindale-Hubbell International Law Directory offers an idea of the great range and number of these groups. Apart from offering member law firms access to, and the opportunity to boast about, a broad range of law firms, a cost argument is also made by some since multi-jurisdiction firms are often high-priced, perhaps in part due to the overhead of an expansive office network. On the downside, some argue that such associations cannot really meet their advertised ability to control standards.

Implications for U.S. Law Firms.Are these international solutions among firms meeting the needs of internationalizing corporate clients? Evidence suggests not nearly as well as all of the globalizing talk would suggest, for at least the following reasons:

The movement toward internalizing work and the in-house preference for managing and controlling international projects suggests that such a model is better and more cost-effective.


Many clients, even among the largest, don't buy into the bigger is better argument. For example, take the following comment from Mr. Heineman, General Electric's general counsel for its 650-lawyer department: "I don't see this great global consolidation of law firms as a good thing . . . I'm extremely concerned about size. If it's a big firm, it makes me question the quality of the work." In another example, the author of a study on the use of outside counsel by corporate law departments concluded: "It may be that, increasingly, law departments hire individual lawyers, the best they can find and afford, and the size of a given lawyer's firm is a minor factor."


Some consider a multi-jurisdiction law practice to be a disadvantage given that it limits a client's law firm choices to the offices which happen to be part of the firm. In the same markets, other independent law firms may be much more appropriate and cost-effective. Some believe that many of the best local firms and lawyers prefer to rely on their own names, reputations and independence. For similar reasons, and despite their general non-exclusivity, the cross-referral incentives at work in law firm associations can also be perceived as a disadvantage.


MDPs may have some success internationally for the very reason that at least some companies think there is a cheaper, faster and better way to handle international work. The Big 5 is specifically responding to corporate disappointments with law firms, including multi-jurisdiction firms.


Related client unhappiness with the law firm tendency to treat all issues as worthy of the full-cost approach has led to developments such as temporary lawyering at far lower rates than the Big 5 would ever want to contemplate.

If a significant portion of the international transactions and investment work is truly going in-house, and if there are such perceived downsides to working through multi-jurisdiction firms and other international approaches, what sort of international work continues to feed U.S. law firms? Several factors are at work. First, capital markets, project finance and other major transactions continue to be centered in large law firms - it is often not cost-effective for companies to build in-house expertise in these areas. Here is perhaps the strongest argument for the benefits of multi-jurisdiction, centralized firms which attempt to provide "seamless" service across jurisdictions. Second, while major international companies have the critical mass of international work to justify bringing it in-house, the many companies without in-house counsel may turn to their U.S.-based primary outside counsel or even go to an "international" firm rather than attempt to coordinate international work directly with foreign local counsel. Yet, it is becoming increasingly difficult for such primary outside counsel to make a persuasive case for their clients' loyalty unless the firm can demonstrate significant international expertise. While some of the long-standing multi-jurisdiction firms have been able to exploit this weakness among other U.S. firms, other forms of specialized international practices have been increasingly able to carve-out a niche. Third, among companies which do have in-house counsel, full-time in-house international counsel are not common in U.S. companies below the size range of U.S. $2 billion annual sales. While in some cases a general counsel or other in-house generalists will take-on international duties, including the process of selecting and working with foreign local counsel, lawyers in other companies are at least open to the argument that their primary outside counsel or other multi-jurisdiction firms can assist with their international matters. Fourth, even the largest companies which generally take-on the drafting, foreign counsel selection and management of the process are open to another use of the multi-jurisdiction firm - treating it as one among several local counsel options, not as a "one-stop shop."

C. International Activities of the "Big 5" - Multidisciplinary Practices. The approximate numbers of lawyers in the Big 5 accounting/professional service firms as of November, 1998, including lawyers in their affiliated law firms and internal divisions, but excluding lawyers practicing tax law exclusively in the firms' accounting or tax divisions, were as follows:






| | | |
| --- | --- | --- |
| Big 5 Firm | Number of Lawyers | Countries where firm has offices |
| PricewaterhouseCoopers | 1,663 | 39 |
| Ernst & Young | 851 | 32 |
| Arthur Andersen | 1,500 | 27 |
| Deloitte Touche Tohmatsu | 586 | 14 |
| KPMG | 988 | N/A |





What do these firms have that law firms do not? The claimed advantage is that, in addition to an international base of offices, these firms can provide auditing, tax, human resource, valuation and other professional services in addition to purely legal work. (Note the parallel here to the ability of the in-house counsel to become part of the in-house version of such multidisciplinary teams.) One consultant to the legal industry points to several advantages of the large professional service firms, including their institutional client bases of hundreds of clients worldwide. PricewaterhouseCoopers is reported to aggressively market multidisciplinary, cross-border services, with a London partner of the firm indicating that its legal practice grew by 50 percent since 1990, its revenue per lawyer is counted among the top 20 London law firms and seventy percent of its legal work comes from cross-selling. Other advantages of the professional service firms include the following: (1) size, with the marketing potential of thousands of professionals and support staff, (2) availability of capital, (3) brand names, (4) institutional advertising, (5) investments in internal technology often far beyond that of law firms, and (6) the existing worldwide presence and international capabilities of the Big 5 with the ability to market "one-stop shopping."

In North America, PricewaterhouseCoopers' early 1997 strategic alliance with Washington DC's Miller & Chevalier for providing tax services remains one of the more significant developments, along with Ernst & Young's relationship as of January, 1997 with Toronto's Donahue & Associates as a potential test case in Canada. However, MDPs, as that term is generally understood, continue to be prohibited in the U.S. Various ethical rules are the primary reason, as set forth in the American Bar Association's Model Code of Professional Responsibility and Model Rules of Professional Conduct, which have been adopted in some form by the majority of states in the United States. Such ethical provisions, for example, (1) prevent non-lawyers from having an ownership interest in legal practices, with the notable and limited exception of Washington, D.C., which permits non-lawyers to become partners in organizations that provide legal services if certain requirements are followed (such as if the sole purpose of the partnership or organization is to provide legal services), (2) prohibit the sharing of fees between lawyers and non-lawyers, (3) require the keeping of client confidences, which might be breached in an MDP (A privilege granted to communications between lawyers and clients may be waived if the lawyer is in partnership or affiliated with non-lawyers who are not under the same duty of confidentiality but either have access to confidential information or are deemed to have such access), and (4) seek to prevent conflicts of interest, such as may occur if a lawyer in an MDP loses professional independence such as through pressure to refer a client to other professionals in the same firm (absent consent, a lawyer is not to represent a client, for example, if the representation may be limited by the lawyer's responsibility to others). The legal profession voices particular concern over the client confidentiality and conflict of interest issues.
3. Role of Lawyers in 10, 20, Even 50 Years - U.S. International Practice and Implications for Asia
A. Irrespective of the "Multi-Firm," the Survival of the Independent Firm in Asia. While differing in various characteristics, the multi-jurisdiction firm and the MDP share one overriding common feature in their approaches to international transactions and foreign investment practice - both assume that clients place great weight on a multiple-country coverage by a single firm. Predictions abound, with some believing that there will be a consolidation resulting in 10 - 20 multi-jurisdiction firms within the next 10 years or so which offer the high-value added international work, including at least a few MDPs, and that there will be increasing survival pressure on regional full-service firms.

Yet, it was noted above that the most sophisticated consumers of international legal services, large multinational companies, express a strong preference for using in-house teams to manage a range of independent law firms. This is in large part due to a recognition that law and its practice varies enormously from country to country and often includes large elements of political and business considerations as well as personal relationships and connections. Without the impetus of a common market such as in Europe, the emphasis on strong, independent firms throughout Asia is unlikely to change in the next 10 to 20 years, and the users of such firms in the United States are unlikely to shift significantly to a quasi-exclusive use of multi-jurisdiction firms or even MDPs (to the extent that these take hold to a greater degree in the region). The survival and prosperity of the independent firm will be helped to the extent that U.S. (and certain U.K.) firms continue to opportunistically hop in and out of Hong Kong and Tokyo rather than build long-term networks in the region that will outlast the fads of the moment.

In the next 50 years, changes in this landscape may depend first and foremost on the degree of convergence of the region's legal systems and practices. Regional groupings that cause countries to take-on common legal system features could affect the process. Though APEC is not currently showing signs of acting as a real force for integration, the WTO may over time act as a catalyst for further growth of multi-jurisdiction firms and MDPs in the region. In addition, greater liberalization of restrictions on foreign investment and cross-border activities is likely to continue to change the practice in Asia from an emphasis on the political and personal toward the basics of negotiation, draftsmanship and knowledge of corporate and commercial law, perhaps also working in favor of the longer-term success of multi-jurisdiction firms and MDPs.

B. What of the MDP in Asia? Of course, much will depend on changes in local rules which further permit such practices. Some have speculated that Europe is ripe territory for clients to enter into relationships with MDPs due in part to client perceptions in Europe that professional services are interrelated and a business environment which tends to make less of a distinction among accountants, lawyers and other consultants. Also, there has traditionally been more emphasis on litigation among law firms in Europe and less on business counseling, particularly in tax where the Big 5 have been less challenged by law firms than in the U.S. and many other jurisdictions. With parallels in many parts of Asia to the attitudes found in Europe, MDPs may find more enthusiasm in corporate Asia that in more legal-centric jurisdictions such as the U.S.

C. Niche Opportunities for International Practitioners. With the survival of strong, independent law firms throughout Asia, and with multi-jurisdiction practices and MDPs offering only part of the solution for only a segment of international projects, a clear opportunity exists for creative international practitioners to work with U.S. and other corporations to continue to find opportunities to harness their experience with Asia-based firm capabilities. A premium will be placed on cost-effectiveness and an ability to demonstrate skills and outlook similar to those of the best in-house international legal counsel. (For example, our own practice is modeled on the characteristics of such counsel.)

D. An Oversupply of World Law Associations? While offering many good opportunities for mutual collaboration and information-sharing, such groups may become increasingly irrelevant as a marketing tool. With just about everyone becoming part of an association (or, in many cases, multiple associations), the perceived advantages of an association may further dwindle in comparison, for example, to a bar group such as the Inter-Pacific Bar Association or the lifetime of contacts and working relationships built by the most experienced international attorneys. There may even be a growing perception that such memberships are more of a negative which tend to restrict referrals to a closed circle of firms.

E. An Emphasis on Bi-Cultural Lawyers, Irrespective of a Multitude of Offices. One common theme among law firms (as well as corporate legal departments) is the prime importance of lawyers who are bi-cultural, bi-legal and bi-lingual. The practice among certain firms of jetting a few New York-based partners and associates for short-term stints in Tokyo or Hong Kong may be proving to be less than effective. Such practices are in part a symptom of those firms which insist on hiring only attorneys with a certain brand of credentialled background, irrespective of whether local conditions are truly suitable for such backgrounds. While some such firms might complain that suitable talent worthy of the firm's standards is simply not available, those standards might not be wholly applicable in the very different circumstances of international transactions and foreign investment (with accompanying blurring of the edges of legal and political issues, lesser certainty under developing legal standards and more concise documentation). Also, many firms have altered their views on the objectives of their non-U.S. offices, often moving away from the view of such offices as outposts in search of clients for U.S-bound work. (The current climate in Asia has probably contributed to this change given that fewer Asia-based companies have an appetite for U.S. activities.) The trend toward finding and working with the bi-cultural types with significant ties to local markets will only accelerate. Of course, as more individuals receive aspects of their legal educations and training in more than one country, the pool of such individuals will continue to grow.

F. Impact of Cost Pressures and Stratification. The effects of cost pressure on companies is likely to continue to play-out over next 10 to 20 years. On the one hand, this strengthens the hand of the Big 5, which will continue to move into areas that are not being cost-effectively handled by law firms. The trend toward breaking projects into segments is also likely to continue. Some such segments, such as document review, more basic drafting and due diligence, may be handled by temporary lawyering agencies. As a result of such differentiation of services, many also predict that the legal profession in general will become increasingly stratified between those that do the more sophisticated work and those that handle routine transactions. One clear signal of this trend is the temporary staffing model, with rates well below U.S. $100.00 per hour for quite experienced attorneys in even the more expensive U.S. markets.

G. Convergence of International With General Corporate/Commercial. Will a degree of convergence put less emphasis on a special category of lawyers who focus on international transactions? This may develop more in the 50-year time frame, when corporate/commercial practice will be by definition an international practice. Restrictions on foreign investment will continue to decrease, putting increasingly less emphasis on the range of political skills needed to shepherd a deal through the channels of another country. Still, the basic civil law/common law features of systems are unlikely to fundamentally change even in the next 50 years.
4. What Can or Should be Done to Preserve or Extend the Legal Profession?

Perhaps an overall message for the legal profession is to better anticipate trends being faced by clients and then to take a leadership role in embracing the trends, not standing in their way. From the U.S. perspective, elements of the profession have acted to antagonize business with a patronizing, "we know what is good for you and for your business" attitude. An example from general U.S. practice is the pursuit of full-blown litigation as the solution for too many business disputes. International practice has often suffered from an insistence on U.S.-derived concepts and language in agreements, along with a cover-all-bases approach to documentation. There can also be a tendency to wrongly view the legal systems and law practices of other jurisdictions as less-well-developed versions of U.S. practice. One reason for bringing more international work in-house is to better align it with the goals of the business and not the goals of a law firm. An emphasis on billing hours, eliminating risk rather than controlling it and striving for certainty when speed and cost-effectiveness are needed are among the in-house frustrations with outside service providers.

The emergence of law practice through the professional service firms seeks in part to capitalize on client frustrations with aspects of law firm practice. Rather than working to halt the progress of these MDPs, it should be possible to ensure that important professional values, such as independence and the preservation of client confidences, will survive within MDPs. Practicing under one roof with accountants, auditors and consultants is not the equivalent of the deregulation of law, and it is important to overcome the business community's impression that professional values arguments are thin covers for self-interest. Moreover, just as excellent opportunities are opening in-house for international practitioners, the MDPs can also become an important environment for legal practice, particularly if through their leadership lawyers ensure that the top ranks of these firms include the best and the brightest of the legal profession.

A version of this publication which includes full citations
is available upon request to companies and their in-house counsel


return to publications index | back to top | home

© Copyright 1997-2006, InternationalCounsel. All rights reserved. Disclaimer.