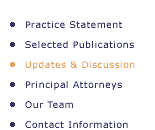 To keep our updates accessible and to encourage feedback and discussion, we invite you to read, subscribe to and participate in the InternationalCounsel blog.

We focus in part on substantive international legal developments, whether in selected countries or affecting common ways of entering international markets (such as through joint ventures, licensing and agency/distribution arrangements). Our backgrounds as in-house international legal counsel to major companies have also led us to keep close watch on ways to improve the management, control and cost-effectiveness of the international lawyering process.

Also Join Our e-Mail Newsletter


Our prior newsletter update was known as The Monitor, and here is a sample issue from the pre-blog world:


Copyright 1997-2007, InternationalCounsel. All rights reserved. Disclaimer.