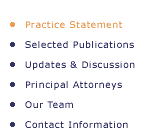 INTERNATIONALCOUNSEL was formed by former in-house international legal counsel to provide legal services to companies with business interests in multiple countries. We are a law firm, yet one committed to delivering international legal services in an innovative and cost-effective way.

Cross-Border Legal Services - Our Track Record

The foundation of our practice is our experience with international business transactions and cross-border investment, built on the kind of credentials from leading educational and corporate institutions that the business world expects from its senior advisors.

Our track record over the decade of our existence speaks volumes for the level of trust we have gained from major name-brand enterprises as well as respected emerging and mid-market companies. Click here for examples of our client relationships.

Two key factors set our practice apart. First, having held senior in-house international positions with major multinational corporations, we are accustomed to participating in practical business decisions, living within budgets and managing and controlling the legal aspects of international projects. Such in-house positions demand an ability to cost-effectively tackle challenges across multiple countries and regions based on a "toolkit" of cross-border skills (more on this below).

Second, having lived and practiced law in more than one world commercial center (including Auckland, Seoul, Tokyo, Singapore, London, Paris, Geneva, New York and Silicon Valley), we know that differences in business customs, political climates and cultural practices demand more than the conventional legal services provided by domestic lawyers. Each of our grounding in at least two world markets and ongoing work in many allows us to continually refine our toolkit of skills.

A Member of Your Team - From Special Projects to a Colleague Down the Hall

In addition to legal services from our team at our usual cost-effective rates, our experience in supporting major enterprises has led us to offer our Counsel Secondment Program. At even more compelling rates, this program offers one of our attorneys on a weekly basis, either offsite or onsite, to companies able to commit to a modest period of engagement.

Why InternationalCounsel?

We Deliver the Core Legal Skills for Cross-Border Transactions and Market Entry. Both our in-house and overseas experience have honed our capabilities in structuring, negotiating and documenting international business transactions as well as in applying local and foreign laws governing cross-border trade and investment.

We devote our best energies and senior resources to the kinds of day-to-day cross-border transactions that form the core of most companies' international work, including acquisitions (whether of 100% or minority interests and with a focus on private companies), joint ventures, manufacturing and supply-chain arrangements, agency and distribution agreements and licenses, as well as market entry through subsidiaries, branches and liaison offices.

A Sophisticated Cross-Border Toolkit, Used by Our Senior International Generalists. We believe that such core legal needs for cross-border transactions and market entry require a sophisticated toolkit of cross-border skills (ranging from key agreement terms to market entry principles) that can be applied across most common and civil law countries throughout the world.

No doubt, in-depth expertise in the law of the target country is important. Yet, key issues in the toolkit surface consistently across all markets and these are a company's important risk-limiting and revenue-producing deal points. Our experience covers many countries and we update what we need from our proprietary and external resources, including our on-the-ground network.

China and India – Examples of Our Country Capabilities. For example, we bring together our skills in handling international business transactions and applying foreign law by offering our clients an "in-house equivalent" international legal team for China and India. Click here for more on our approach to China investment and trade.

Technology - A Strong Client Focus. Our strong technology focus, including electronics, information technology, e-commerce, telecommunications, and biotech and other life sciences, keeps us abreast of technology issues in multiple countries. As an example of our cross-border technology work, companies and their inside counsel may click here to view our White Paper on cross-border online legal issues by completing a simple registration.

Our Cross-Border Mission. Major international companies, the most sophisticated users of international legal services, employ specialized in-house attorneys to take charge of the legal aspects of international projects. Traditional law firms focused on their domestic market have found it increasingly difficult to add value to the typical cross-border project.

Our mission is to offer the advantages of the in-house international counsel role to both emerging international companies for which a full-time legal team member would not be practical as well as substantial international institutions in need of a supplement to their highly-experienced internal resources.


click here for more on InternationalCounsel:


back to top | home

Copyright 1997-2018, InternationalCounsel. All rights reserved. Disclaimer.