The Global Contracts Legal Risk Challenge
Our Solution
... and an Example – Appointing Dealers in Multiple Countries
International expansion brings new and more complex contract obligations – from a few to many thousands of contracts in multiple countries. Contracts for sales and procurement, agency and distribution as well as licenses – all part of an effort to sell products and services, buy required components and raw materials, distribute through third parties and potentially license intellectual property. In far-flung locations with less familiar third parties.
International expansion brings new
and more complex multi-country
contractual obligations
While not the kind of highly-customized contracts required for international joint ventures and acquisitions, contracts with "mid-level" detail and commercial risk are critical to international success, are often required in large numbers, and have unexpected legal risk and complexity.
For such contracts, the internationally-expanding company faces new challenges:
How to effectively create, negotiate, amend and manage contracts that are impacted by the laws of multiple countries with varying local requirements, restrictions, and potential fines and penalties? Laws that may call into question the very enforceability of the contracts, despite clear written obligations that would not be questioned in the domestic market
What is the best approach to managing contract legal risk worldwide? There is a spectrum of corporate approaches – ranging from using a domestic agreement with little or no change, to re-creating contract terms for each country of use. Experience tells us that neither of these approaches leads to the right risk-reward balance – our approach involves the creation of a best-practice master template that is then "localized" for the law and practice of target countries
Yet, who on the internal or external team is best positioned to implement this process of template creation and localization – and then the inevitable amendments, terminations and (yes) dispute resolution - and what level of foreign local counsel input is optimal?
International Counsel's Integrated Multi-Country Contracts Solution
International Counsel, with its multi-country team members, acts as an experienced and integrated global contracts solution to cost-effectively create, negotiate and manage contracts in multiple countries.
Read more... single point of contact for 40+ countries, track record insights on what works in practice... whether as a supplement to a company's other legal resources, a partner to our colleagues at other law firms or a subject matter expert to other managed service legal solutions providers...
From its start as a law practice formed in the mid-1990s by former in-house international legal counsel to provide legal services to companies with business interests in multiple countries, International Counsel has been refining its methodologies and cost-reduction strategies, and formalizing relationships with its best in-country team members in Europe, Latin America, the Middle East and the Asia-Pacific.

Advice is implemented and invoiced through a single International Counsel point of contact to newly-expanding as well as established global companies for solving contract issues in 40+ countries that connect the dots between local laws, foreign counsel, and expanding international companies seeking best practice legal risk management and project execution.

We harness the combined insights of our years in-house and with substantial clients to better understand what really works in practice, makes sense as company policy and strikes the right balance in drawing on our in-country resources, whether as a supplement to a company's other legal resources, a partner to our colleagues at other law firms or a subject matter expert to other managed service legal solutions providers.
An Example - Appointing Dealers in Multiple Countries
What are the key issues in solving agent and distributor contract issues in multiple countries?
Read more - a table on contract issues and solutions for agents and distributors...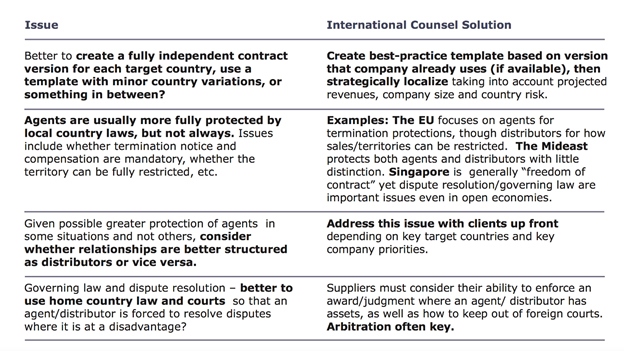 US-based Companies Can Be Heavily Dependent on Global Sales, Often Generated by Foreign Agents/Distributors
Read more - a table on US company dependence on multi-country distribution channels...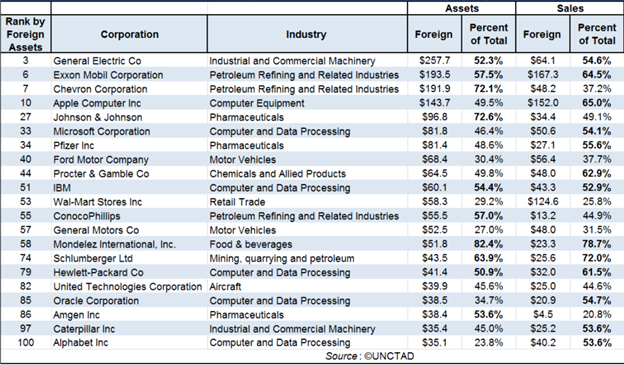 Why Re-Invent the Wheel if Our Solution Works?
Since mid-level contracts are not considered to be the kind of strategic, high-value legal risk matters that in-house counsel are best suited for at their levels of salary and benefits, our value proposition to our in- house client segment is this: by freeing internal time for more critical issues such as joint ventures, M&A deals, foreign corrupt practices strategies and market entry legal risk management, internal resources are more strategically leveraged by leaving the mid-level international contracts to International Counsel, with client input as needed through issue escalation decision trees that are agreed to in advance.
Similarly, our law firm and managed service legal solutions partners can add great value to their own clients by delivering our global contracts solutions, and focusing instead on the solutions that they are optimized to solve.